Play through the campaign to receive items and experience.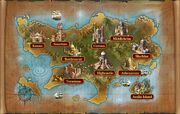 The Stars are used to evaluate the battle result. The less troops you lose, the more stars you gain.
For the first week after launch, there will be a "Most Campaign Stars" event.  Obtain the most Campaign stars on your server before the event is over to receive a huge stash of Gems, resources and items meant to keep you ahead of the game!